Newb relocating back to SD.
Hey everyone,
Names Josiah. As the title says I am looking at moving back to SoCal within the next few months. I used to live in SD for about 4.5 years. After being gone for four years now; I am ready to move back. I have had a healthy love hate relationship with a few Mitsu's over the years. 92' TSI awd, 95' GS, 05' Evo MR, and a 92' GVR4 (192/1000).
I took a break from them after having to sell my GVR4 because of getting divorced. I picked up a 07 Mazda RX8 GT (I know, I know). Well it's been long enough and the bug has bite me again to get back into them. So once I'm relocated I plan on picking up a 1ga, 2g awd, or a GVR4 possibly. I figured it'd be better to find a Cali car anyways as rust won't such an issue as it can be in North Carolina.
Definite plans are to go with a FPgreen setup or 30R. I want a healthy 300-350 on pump. I know this can be achieved with a lesser turbo, but I enjoy the punch of a larger frame turbo. suspension and bracing will be my largest focus along with a functional bolt in cage to allow proper mounting of harnesses. I plan to keep this car as a canyon cruiser mainly along with the occasional autox/track day. With my current job I will not be using the car for anything more than recreation.
So looking forward to making the move back to the West Coast. You never know how much you miss a place till you move away. Cali may have it's quirks but has been a far more enjoyable state than North Carolina.
In the meantime, enjoy these photos.
This was on Palomar Mtn. back in 08'.
I stripped the bodykit and installed a full oem 2gb bumpers on it. I did not install the kit. lol Just dumb enough to buy it that way.
What happens when your engine decides it doesn't want to live anymore. Spit this out of the back of the block. Funny enough the engine still cranked and drove enough to move the car around the driveway.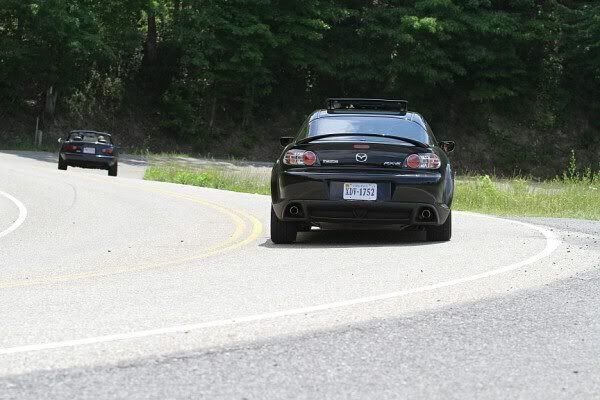 This was taken last year when my old room mate from SD drove down and we drove the Tail of the Dragon in Deals Gap, NC. Amazing road for sure. 318 curves in 11 miles.